10 years ago, FourBlock started with a class of 16 veterans in NYC. Since then, the organization has grown to an incredible nationwide community of more than 2,500 alumni and thousands of supporters, all dedicated to helping the next generation of veterans successfully transition from military service to meaningful civilian careers.
To help us all stay connected as our community continues to expand and grow, we recently launched FourBlock Connect, a new online networking and community-building platform. FourBlock Connect is a closed community that will help our students and alumni find connections and advance their careers, while providing our employer partners with opportunities to introduce themselves, hire, coach, and offer mentorship.
FourBlock Connect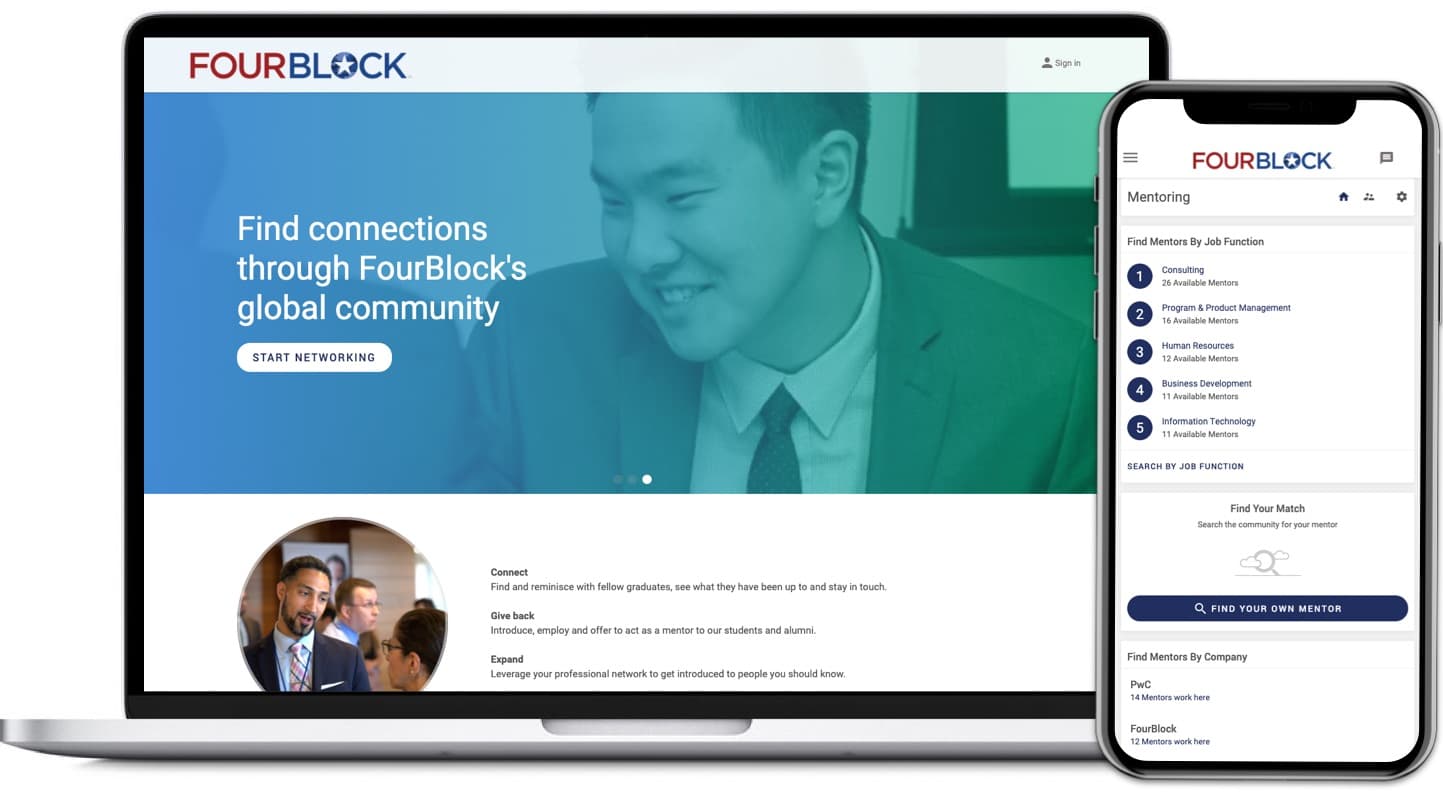 FourBlock Connect is available exclusively to FourBlock students, alumni, staff, National Leadership Council members, our Board members, and employer partners.
Connect
Find and reminisce with fellow graduates, see what they have been up to and stay in touch.
Give Back
Introduce, employ and offer to act as a mentor to our students and alumni.
Expand
Leverage your professional network to get introduced to people you should know.
FourBlock Connect is a closed community for students, alumni, and employer partners.
Registration is required.
Platform Features:
A running feed of alumni updates, interesting content, photos and conversations.
A full opt-in directory of alumni and students, allowing you to connect with our FourBlock community around the country.
A mentorship platform for alumni, giving them the opportunity to connect with others to request or offer guidance and mentorship.
Opportunities for our strategic partners and alumni to give back by offering to review resumes, meet for coffee, give advice about an industry, and more.
A career opportunities board where alumni and partners can post current employment and internship opportunities.
Group conversations allowing students and alumni to engage at a more granular level with those from their cohort or location or with whom they share similar interests.
Weekly session information posted by our local instructors and regional directors.
Opportunities for employers to host industry information sessions.
Alumni:
Post one or more current opportunities from your employer.
Offer to coach or mentor students, alumni, or military spouses.
Search for alumni with similar interests or in your local area.
Search for new career opportunities from our trusted partners.
Employer Partners:
Post opportunities – one at a time or automatically using an automated job feed.
Offer to mentor alumni, current students, or military spouses.
Join a local session as a host employer.
Current Students:
Access to group conversations allowing for engagement at a more granular (cohort) level.
Class sessions and other events posted by our local instructors and regional directors.
Webinars and information sessions hosted by employers and subject matter experts within our network.
A running feed of program updates.
Course curriculum and related resources.
If you are an employer and would like to learn more about FourBlock or the FourBlock Connect platform, please contact Gretchen Dietrich at gdietrich@fourblock.org.