Are You Ready For The Next Step?
Every veteran knows that you need to prepare for a mission. You equip yourself with the best tools, the most up-to-date information, and surround yourself with the best team to get the job done. Are you doing the same for your career after military service?
What Makes FourBlock Unique
FourBlock is shaping the future of veteran transition and veteran career readiness by building a nationwide community of veterans and employers dedicated to supporting returning service members as they pursue meaningful careers after the military. We bring together a veteran with an employer so that they may have a conversation about career opportunities, learn from one another, and begin to build a professional relationship.
Transitioning service members and veterans can connect with the FourBlock community wherever they are, so they can learn best career transition practices, explore career opportunities, and build their own professional networks.
See upcoming program dates for our location-based and regional virtual programs.
Our Program
FourBlock's Career Readiness Program is designed to equip transitioning service members and veterans with the tools they need to develop professional knowledge and build the relationships necessary to successfully transition to meaningful civilian careers. We partner with top companies across the country to provide our program participants with world-class career transition programming developed in partnership with Columbia University.
Each week program participants meet with employer representatives from different companies and industries to learn about corporate culture, develop and practice the technical competencies needed for an effective career search - and most importantly - gain access to both veteran and civilian employees with whom relationships can be built.
We offer our Career Readiness Program twice a year in major metropolitan cities across the country during each fall and spring academic semester, at no cost to veterans. The program is taught by Career Readiness Instructors and guest lecturers who are professionals and executives from leading companies. This ensures our participants can begin to actively build a professional network during the program and learn about current hiring practices. In addition, the content of our course curriculum targets professional development and is updated yearly to reflect the latest in career and learning research.
During the program, program participants are supported one-on-one by volunteer Veteran Career Readiness Coaches. These coaches – FourBlock alumni, company representatives, and others who desire to help veterans in their career transitions – offer feedback, address personal transition and career-related questions, and help guide individualized career search strategies and planning.
Upon completion of the program, our participants (FourBlock alumni) emerge with an actionable plan for furthering their career search strategy. They have an improved ability to communicate their military experience, a better understanding of corporate culture, and a professional network build and grow. All FourBlock alumni are offered follow-on support in the form of continued career counseling, and access to our networking and other professional development events nation-wide – both virtually and in person.
FourBlock has created a comprehensive transition program that is engaging, insightful, and effective. They are essential for veterans seeking new career opportunities.

Michael Burten, FourBlock Alumni, Columbia University
The FourBlock Experience
At the core of our program is relationship building – bringing together a veteran with an employer so that they can learn from one another, begin to build a professional relationship, and discuss career opportunities. The purpose of each session is to facilitate this type of conversation for every participant and corporate representative in attendance. Our curriculum is designed to prepare each participant for this moment and subsequent relationship-building conversations.
After the course is finished, our team is available to continue to work with alumni as they begin to take action on discovering a new purpose in a meaningful civilian career. FourBlock alumni are encouraged to become active members of our community in whatever way makes sense for them. This might be serving as a future Career Readiness Instructor, a volunteer Career Readiness Coach, serving on an employer panel, or hiring from our next cohort of veterans.
Other programs just seem to repeat the same information but FourBlock contains a vast array of information designed to better market yourself to employers.

Evan Barker, FourBlock Alumni, NYC Emergency Mgmt Dept
Our Curriculum
In partnership with Columbia University, we have developed an effective and evidence-based professional development curriculum that is delivered through a blended learning model consisting of pre-session reflections, online engagements, and practical application that occurs face-to-face (in-person or virtually). Over the course of a semester, our students engage in course lessons meant to enhance their personal and professional understanding of themselves and their future careers as they make the transition from military service or higher education and find meaning in the civilian workforce.
We have adopted the theories of Experiential Learning and Community of Inquiry into our methods to be as impactful as possible. Our lessons and assignments are delivered asynchronously through our new online portal, FourBlock Connect, while our course sessions are synchronous (in person or virtual) instructor-led events, supported by employer panels and practical application.
Participants are expected to complete weekly assignments and engage in online discussions with their instructors and other cohort members prior to each session. During each session, presentations are given by executives from leading companies and industries in that program location, allowing our participants to learn from today's leaders how the week's lesson applies in the real-world.
Furthermore, exposure to different companies, industries, and guest lecturers allow program participants to discover how their interests might align in an area they may never have considered previously. Each session includes time devoted to relationship building and practical application – such as guided discussions, resume reviews, mock interviews, or general networking – and all involving professionals from the host company.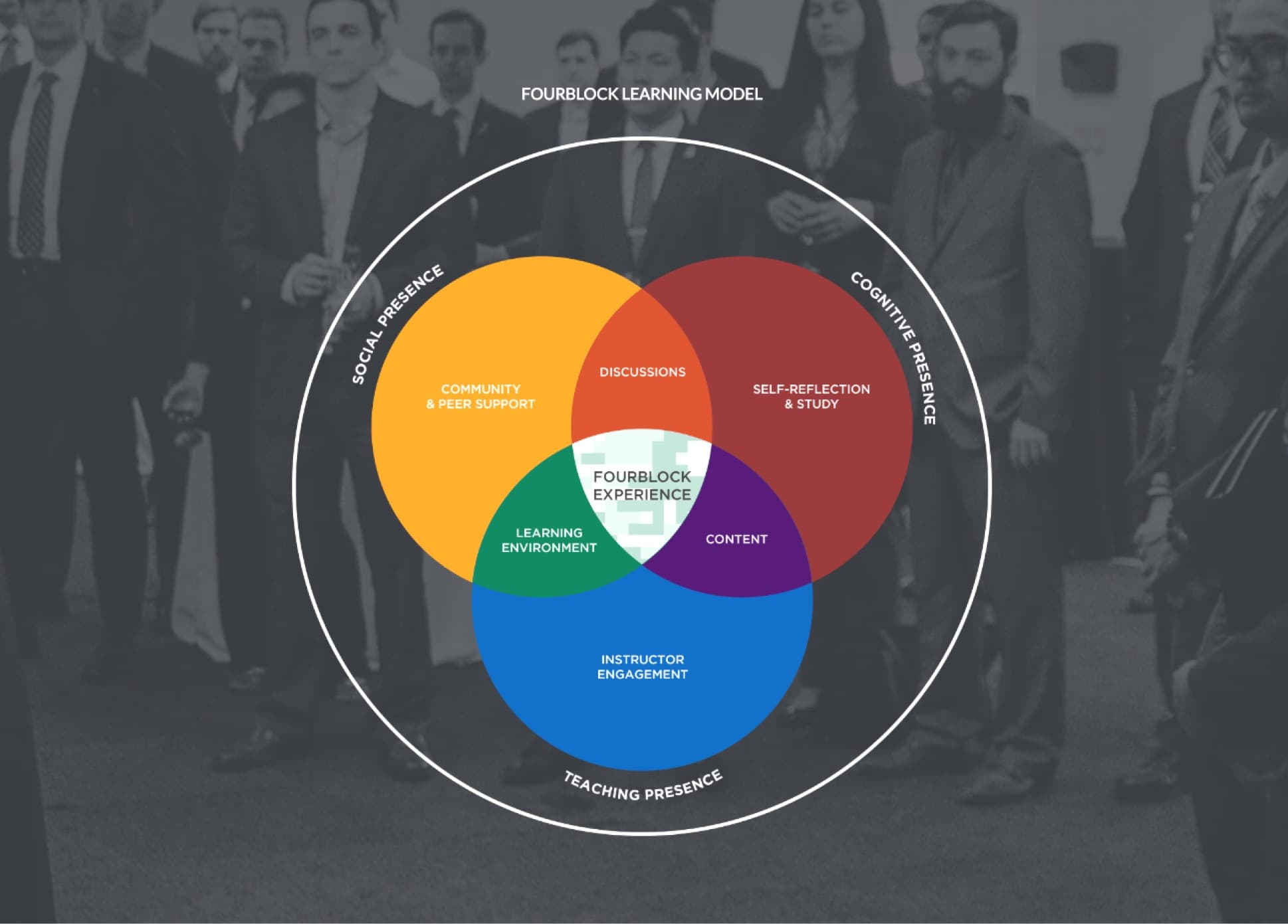 Learning Objectives
Veterans who complete our program will be able to:
Exhibit FourBlock's core values: act with humility, work to build trust, and engage people smartly
Translate their skills and experiences to communicate their value effectively (in a targeted resume, a LinkedIn profile, and during an interview or networking conversation)
Interact with others confidently in a professional setting
Gain a better understanding of their strengths, priorities, what they want from a civilian career, and how they will continue to serve
Build, grow, and leverage a professional network
Discover and explore new career paths, industries, and companies
Understand how their values match with corporate culture
Furthermore, our alumni will have had the opportunity to:
Explore new industries, companies and careers and uncover hidden opportunities that match their skills, attributes and interests
Create a working list of fifteen companies (at a minimum) to target for internships and full-time positions
Establish or expand a professional network in their current or desired location, as well as through the national FourBlock community
FourBlock puts veterans in front of the right people and is designed to give veterans willing to put forth the extra effort an opportunity.

Chase Magann, FourBlock Alumni, Auburn University
Our Corporate Partners
We integrate our partner companies throughout the entire program. This allows our students to make educated and better-informed career decisions and helps our participating organizations build a stronger veteran hiring pipeline. Each week, our cohorts visit different host companies located throughout their city and are given a preview into the real-world corporate learning environment. Senior executives and fellow veteran employees from our partnering companies have the opportunity to lead large and small group discussions with our cohorts, allowing participants to learn from today's leaders and see how the week's lesson applies in the real-world.
Exposure to these top companies and guest presenters allow course participants to begin to build or expand their network; gain new insight into corporate culture and executive leadership; and discover how their interests might align with an industry they may never have considered previously. Time is devoted during each class session to practical application such as networking, resume reviews, and mock interviews, all involving professionals from the host company.
We partner with more than 60 top companies across the country to introduce great career opportunities to our veterans and build a pipeline for introducing our veterans to companies.
FourBlock is our competitive advantage.

Dan Baulig, Senior Vice President, Marsh Global
Career Readiness Instructors
Our Career Readiness Instructors and guest speakers are accomplished professionals and senior executives from some of the best companies in the world.
The FourBlock Career Readiness Instructor is the lead front-line team member and direct service instructor for the FourBlock Veteran Career Readiness Program. The Career Readiness Instructor works directly with the FourBlock Regional Director, Career Readiness Coaches, local employer partners, and local veteran service organizations to effectively deliver our Career Readiness Program curriculum to a cohort of transitioning service members and veterans seeking new careers.
Thank you FourBlock for giving me these opportunities. The engagements we had were like no other classes I have taken before.

Lyon Henry, FourBlock Alumni, Amazon
Our Veterans
Our cohorts are made up of Post-9/11 veterans from all branches of the military. They are both enlisted service members and officers who have predominantly served four to six years in combat arms, intelligence, logistics, and IT specialties.
Our veterans are in above-average academic standing, typically in their junior year of undergraduate studies or first year of their graduate studies and have decided to use Four Block as a principal partner in the development of their professional careers.
Our typical cohort is roughly 75% former enlisted and 25% former officers. The majority are pursuing a bachelors or MBA degree. Roughly 60% of our veterans are interested in the finance, international affairs, and consulting careers, with the remainder interested in accounting, cybersecurity, engineering, intelligence, IT, journalism, and marketing careers.
They come from top universities across the country, including Columbia University, Fordham University, Georgetown University, Harvard University, Johns Hopkins University, Northeastern University, NYU, UC Berkeley, US Military Academy, US Naval Academy, and many more.
The impact of FourBlock is evident. Their program helps better prepare veterans to be leaders at every level in the respective industries they chose to join.

Michael Donoghue, Partner, PwC
Our Results
As we celebrate more than 13 years of service, we continue to look for new ways to grow our impact and help more service members and veterans successfully transition into meaningful civilian careers. The results of our programs to date are undeniable: Veterans make better career choices, and employers make better hiring decisions. Together, we are improving the military transition process.
FourBlock Alumni Report*
FourBlock is impacting the workforce. 87% of our veteran alumni eligible for civilian employment reported finding a meaningful career within six months of completing the program,* and 84% remain at this first job for at least 12 months,* compared to the national average retention rate of just 57% of veterans who stay at their first job after military service for more than 12 months. **

Furthermore, 74% of our alumni say they feel "extremely confident" they will find meaning and purpose in a postmilitary career, a 95% increase from the pre-assessment questionnaire.*

FourBlock is helping corporate America better understand veterans. 99% of our host companies say that FourBlock allows them to give back to their community in a meaningful way. 95% of employe participants agree or strongly agree that their experience with FourBlock helped them better understand the military community and/or how skills acquired in the military can be an asset to their organization.

FourBlock has proven results. More than 4,000 veterans have completed our Career Readiness Program and successfully transitioned into meaningful civilian careers. FourBlock alumni have been hired at more than 500 companies around the world for an internship or full-time position upon completion of our program.

Three of our partner companies have hired more than 30 of our veterans at their companies. Our alumni have received full-time and internship offers at PwC, T-Mobile, Wells Fargo, LinkedIn, Boeing, ADP, and USAA, just to name a few.
* Based on Fall 2022 and Spring 2023 pre- and post-assessment survey data
** IVMF and Syracuse University study