FourBlock Named "Top-Rated Nonprofit" By GreatNonprofits for Seventh Consecutive Year
The Top-Rated award is based on outstanding online reviews from FourBlock community members, including alumni, volunteers, and donors.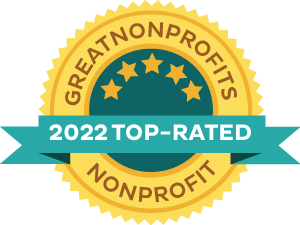 (NEW YORK CITY) – For the seventh consecutive year, FourBlock has been named a "Top-Rated Nonprofit" by GreatNonprofits, the leading provider of user reviews for charities and nonprofits.
The Top-Rated Nonprofit Award is based on the rating and number of reviews that FourBlock received from those who have had direct experience with the foundation, including volunteers, donors and program alumni.
"We are beyond honored and humbled to be named a Top-Rated Nonprofit for the seventh year in a row," said Michael Abrams, President & Founder of FourBlock. "This achievement is a testament to the incredible dedication of our team members, our incredible employer partners and host companies, our program alumni, our committed volunteers and every community member who has continued to support our mission and those we serve year after year."
To earn the 2022 Top-Rated award, at least 10 reviewers had to write a review of our services within the first ten months of the year, with at least a four-star rating. During that timeframe, FourBlock received 18 reviews, all of which were five-star ratings.
"FourBlock helped me tremendously as I prepared for my career after military service," read one review of FourBlock from 2022 from a graduate of FourBlock's Career Readiness Program. "The coaches and host companies dedicate their time and knowledge to the transitioning service members, giving them a unique opportunity to learn about career opportunities and best practices for the job seeking process."
"FourBlock is an amazing program and one veterans should make time in their transition calendar to leverage," said another reviewer who graduated from FourBlock's Spring 2022 San Antonio Career Readiness Program. "FourBlock helped de-mystify the corporate world for me. I'm now working at an amazing firm doing work that is both challenging and rewarding."
"FourBlock is a fantastic nonprofit which has changed my life!" read a third review from 2022 from a Career Readiness Program graduate. "The teachings and feedback I received were such a game changer for me. I was able to change my perspective on my job search and choose a new field with confidence."
FourBlock currently holds a perfect five-star rating on GreatNonprofits from 122 reviewers. The full list of reviews can be found on FourBlock's profile here.
"FourBlock is a great example of a nonprofit making a real difference in their community," said Perla Ni, CEO of GreatNonprofits. "Their award is well-deserved recognition not only of their work, but the tremendous support they receive, as shown by the many outstanding reviews they have received from people who have direct experience working with FourBlock."
GreatNonprofits is the largest donation website for nonprofits and where people share stories about their personal experiences on more than 1.6 million charities and nonprofits. The GreatNonprofits Top-Rated Awards are the only awards for nonprofits determined by those who have direct experience with the charities – as donors, volunteers and recipients of aid.
The complete list of 2022 Top Rated Nonprofits can be found at: https://greatnonprofits.org/awards/browse/Campaign:Year2022/Issue:All/Page:1
About FourBlock
FourBlock is a 501(c)(3) non-profit organization dedicated to supporting active-duty service members, veterans, and military spouses in their transition from military service to meaningful civilian careers. FourBlock's flagship Veteran Career Readiness Program is taught by corporate executives virtually and in major cities across the U.S. and now serves more than 600 transitioning veterans annually. To learn more about how FourBlock is equipping veterans and military spouses to successfully transition to meaningful civilian careers, visit fourblock.org or contact info@fourblock.org.
About GreatNonprofits
GreatNonprofits is the leading site for donors and volunteers to find stories and ratings of nonprofits. Stories on the site influence 30 million donation decisions a year. Visit www.greatnonprofits.org for more information. 
###