The 7th Annual Inspire Games Raises More Than $150,000 for Transitioning Veterans and Adaptive Sports Training 
All proceeds from the charity hockey tournament, co-hosted by Marsh McClennan and FourBlock, will directly support career transition programming for veterans and military spouses, as well as adaptive sports training for wounded Marine veteran and two-time Paralympic gold medalist Ralph DeQuebec.    
(NEW YORK CITY) – On Wednesday, May 18th, FourBlock and Marsh McLennan came together again to host the 7th annual Inspire Games in support of military veterans and adaptive sports training.  
The annual charity hockey tournament is hosted each year in partnership with the New York City insurance industry. This year, more than 25 companies generously sponsored the games.
Together, we raised more than $150,000 from the event, which will directly support FourBlock's career transition programming for veterans and military spouses, as well as adaptive sports training for wounded Marine veteran and two-time Paralympic gold medalist Ralph DeQuebec.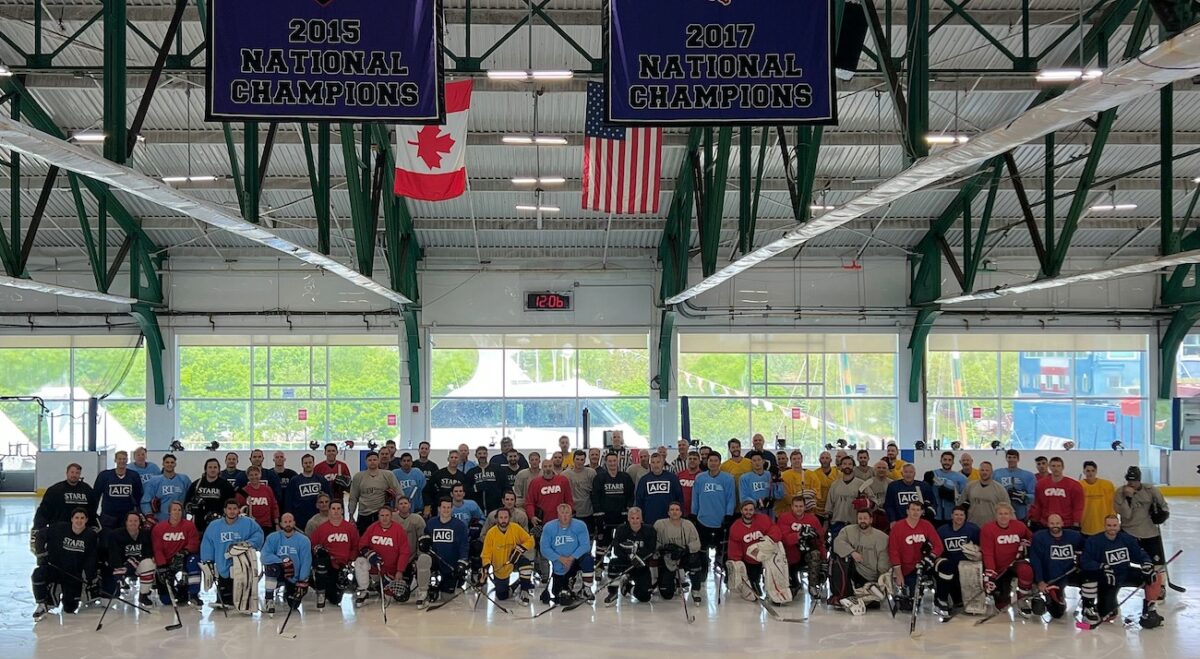 In 2012, Gunnery Sergeant Ralph DeQuebec deployed with 1st Marine Special Operations Battalion to Afghanistan. On June 21, GySgt DeQuebec was disarming an improvised explosive device when it detonated. As a result of the blast, Ralph lost both legs above the knee. He endured four years of recovery and rehabilitation at Walter Reed National Military Medical Center in Bethesda, MD. With the help of his FourBlock mentor, he discovered that he responds best, both physically and mentally, to recreational therapy; in particular, he fell in love with sled hockey.
In 2016, Ralph retired from the Marine Corps and began pursuing his dream of playing in the 2018 Winter Paralympics in PyeongChang, Korea. In 2017, he was named co-captain of the US National Developmental Sled Hockey Team. And in January 2018, Ralph was selected to play with the gold-medal-winning U.S. National Sled Hockey Team in PyeongChang. In March 2018, Ralph took home the gold with Team USA during the 2018 Winter Paralympics Games, helping Team USA rise to the top with three assists over three games.
Since then, Ralph has been inducted into the Los Angeles Sportswalk of Fame, twice won gold with Team USA at the 2019 and 2021 IPC Para Ice World Championships, and once again took home the gold at the 2022 Winter Paralympic Games in Beijing.
While he continues to train, Ralph is also committed to helping others who have similar dreams to play sled hockey. He now coaches and mentors disabled veterans and disabled youth, while still playing with Team USA.
With support from the Inspire Games, Ralph has been able to host training camps in Denver, CO, which included national teammates and a large group of aspiring sled hockey players from the local Denver Community. Ralph was able to organize and fund the training camp with some of the proceeds from previous years' Inspire Games!
It was an honor to celebrate Ralph's amazing journey from serving our country on the battlefield to representing us on the ice. We look forward to witnessing Ralph's continued success on and off the ice and continuing to serve our nation's veterans and military spouses as they transition to meaningful new careers.
Thank you to all of our sponsors, hockey players, and supporters who attended the 7th annual Inspire Games! We'd like to recognize our incredible sponsors for their generous support of this year's Inspire Games:  
Platinum Sponsors:
AIG  
CNA  
FM Global  
The Hartford   
Liberty Mutual  
Marsh  
RT Specialty Group 
Starr Companies 
Gold Medal Sponsors:
AON 
Chubb 
CRC Group 
Guy Carpenter 
Gramercy Risk Management 
JetBlue  
Zurich North America 
Silver Medal Sponsors:
Alliant
AmWINS
Canopius
Crum & Forster
Hudson Insurance Group
OdysseyRe
Sompo International
Bronze Medal Sponsors:
Allianz 
AXA 
Tito's Vodka 
SwissReCorporate Solutions 
About FourBlock
FourBlock is a 501(c)(3) non-profit organization dedicated to supporting active-duty service members, veterans, and military spouses in their transition from military service to meaningful civilian careers. FourBlock's flagship Veteran Career Readiness Program is taught by corporate executives virtually and in major cities across the U.S. and now serves more than 600 transitioning veterans annually. To learn more about how FourBlock is equipping veterans and military spouses to successfully transition to meaningful civilian careers, visit fourblock.org or contact info@fourblock.org.
###