Shiree Holder is a 20-year U.S. Air Force veteran and a graduate of FourBlock's Spring 2020 Philadelphia Veteran Career Readiness Program.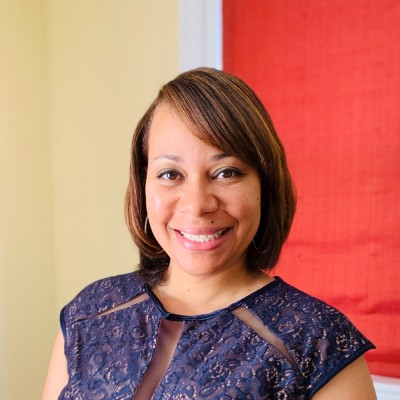 Service (Branch, Length of Service): Air Force, 20 years
Education: MA (2013) in Training and Development
FourBlock Cohort: Philadelphia, Spring 2020   
Current Company or Organization: Workforce Insight, Part of Accenture
Position: Project Manager
Hobbies & Interests: Gardening
We spoke with Shiree to discuss her military transition, her experience in FourBlock's Career Readiness Program, and her current role with Workforce Insight, Part of Accenture.
---
What struggles or barriers did you face during your transition from active duty back into civilian life?
My transition began just before the world shut down due to Covid. So, in addition to the normal stressors of transitioning, there was a high level of uncertainty with everything. Companies choosing to WFH or lay employees off. Job searches, interviews, and networking events going virtual or canceling altogether. This added a few additional hurdles, but it all worked out for me in the end.
What drove you to apply to participate in FourBlock's Veteran Career Readiness Program?
FourBlock's approach was unlike any other transition program I encountered. The opportunity to learn and/or develop the skills necessary to be successful while networking with professionals from industry-leading organizations was an opportunity I could not pass up.
How did the program impact your transition?
The Career Readiness Program prepared me for every aspect of my job search from resume writing to negotiating my salary. I left the program feeling prepared to speak to my experience, skills, and career aspirations in a way that I wasn't before the program.
What were your key takeaways from the program?
My key takeaways from FourBlock were how important networking, preparation, and being my own advocate are in my job search and my career development.
What did you like most about FourBlock's approach and/or the Career Readiness Program?
The best feature of FourBlock's Career Readiness Program is the opportunities to begin networking, building professional relationships, and practicing the skills with professionals representing local employers.
How did the program help prepare you for your current role?
The career readiness program helped me to translate and communicate my military experience into skills most employers find valuable. Being able to clearly communicate my experience allowed me to advocate for a move to my current role. It also helps me to communicate my career aspiration and guide my professional development. 
What can veterans in your region expect from the program?
Program leaders who understand the complexities of transitioning. Facilitators and coaches who truly want you to be successful. And the tools and opportunities to begin building their professional network.
What do you like most about your current company or position?
I love the collaborative environment. Teams representing all levels within the organization, working together to develop solutions that drive value for our clients.
How did your military service prepare you to serve in your current role, or your work in the civilian workforce more broadly?
My military experience prepared me in so many ways. As an operations manager, I've managed small and large teams, budgets, and resources. My military experience also taught me to build and maintain relationships, look for creative ways to solve problems and continue learning to hone my skills. All things I use daily in my current role.
What one piece of key advice would you give to veterans who are currently transitioning?
Start early and be deliberate. Transitioning is a process, so it is important to create a plan and set goals for yourself. Work your plan and push to accomplish your goal.
Accenture is a multi-city partner of FourBlock's Veteran Career Readiness Program.