Ryan Kerr is a 23-year U.S. Air Force veteran and graduate of the Fall 2019 inaugural San Antonio cohort of FourBlock's Career Readiness Program.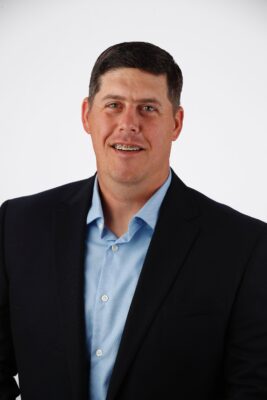 Service (Branch, Length of Service): U.S. Air Force, 23 years
Education: University of Colorado, Colorado Springs, Class of 2007
Major: Master of Education
FourBlock Cohort: San Antonio, Inaugural Fall 2019
Current Company or Organization: Wells Fargo
Position: Learning and Development Facilitator
Hobbies & Interests: Basketball, football, outdoor activities, family travel
We spoke with Ryan to discuss his military transition, his experience in FourBlock's Career Readiness Program, and his current role with Wells Fargo.
---
What struggles or barriers did you face during your transition from active duty back into civilian life?
The most prominent struggle was understanding how the hiring process really worked. I had the perception, based on my leadership experience and rank, that finding a position at the same level in the civilian workforce would be easy and seamless. As I began to see the reality of applying for jobs and hearing nothing back, I began to get frustrated. It didn't make sense to me why companies and hiring managers couldn't see how the high level of performance throughout my career would benefit them! After all, I was doing everything I was taught regarding my resume, cover letter, and networking. This frustration became a barrier as it blinded me on how I should approach the application process. With the initial job interviews I did get, hiring managers perceived military leaders as having a single leadership style, firm and direct.
What drove you to apply to participate in FourBlock's Veteran Career Readiness Program?
I discovered I needed meaningful connections. Because of my position at retirement, my commander wouldn't allow me the opportunity to participate in transition programs like SkillBridge or Hiring Our Heroes Fellowship Program. FourBlock was the first opportunity I learned about that connected participants to companies without interfering with my normal workday.
How did the program impact your transition?
FourBlock reinforced the mechanics I already learned prior to the cohort. However, I gained perspective and made meaningful connections, which resulted in employment.
What were your key takeaways from the program?
1. Build relationships; just having LinkedIn connections isn't enough. 2. See the process from a hiring manager's perspective. Hiring managers and recruiters get hundreds of applications for each position. You have to show them how you are the right fit.
What did you like most about FourBlock's approach and/or the Career Readiness Program?
FourBlock set up the weekly events as a networking event while integrating the curriculum. I liked the host companies providing the curriculum because it gave a more realistic application to how the companies view their applicants. The panels were great in generating meaningful conversations while allowing the cohort participants to establish connections within the host companies.
How did the program help prepare you for your current role?
FourBlock helped me identify how I could translate my military experience and skills to the corporate learning and development environment.
What can veterans in your region expect from the program?
Expect to apply what you are learning. Coaches and mentors are eager to assist you in your journey, but you have to do the work.
What do you like most about your current company or position?
Culture and values. Wells Fargo expects employees to do what is right for the customer. This aligns well with the Air Force Core Values I've lived by over the last 23 years. Employees are very supportive of one another. I love the collaborative work environment.
How did your military service prepare you to serve in your current role, or your work in the civilian workforce more broadly?
The Air Force provided me numerous opportunities throughout my career to train and educate. I was afforded the ability to train at every level from on-the-job training to staff development. I was able to easily transfer these skills to the corporate learning environment. Through tuition assistance and G.I. Bill benefits, I was able to obtain a Masters in Education while on active duty.
What one piece of key advice would you give to veterans who are currently transitioning?
Focus on what you are passionate about. Search for a career that's meaningful, not just the next source of income. I had three areas I was looking for employment. Once I committed to my true passion, I was able to gain meaningful employment.
A FourBlock employer of choice, Wells Fargo is a multi-city sponsor of FourBlock's Career Readiness Program in Charlotte, San Antonio and San Francisco.