Paul R. Dueringer is a 32-year U.S. Army veteran and graduate of FourBlock's Fall 2019 Career Readiness Program in San Antonio, TX. Paul also serves as a member on FourBlock's National Leadership Council.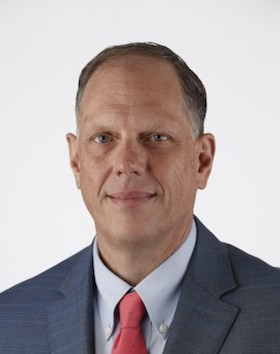 Service (Branch, Length of Service): U.S. Army, 32 years
Education: University of Georgia  
Major: Pre-Law
FourBlock Cohort: San Antonio, Fall 2019   
Current Company or Organization: Wells Fargo
Position: Business Risk & Controls Sr Analyst
Hobbies & Interests: Travel, outdoor activities, and reading
We spoke with Paul to discuss his military transition, his experience in FourBlock's Career Readiness Program, and his current role with Wells Fargo.
---
What struggles or barriers did you face during your transition from active duty back into civilian life?
Like many transitioning service members, I really struggled with three things: career focus, translating skills, and positionality in the corporate community.
What drove you to apply to participate in FourBlock's Veteran Career Readiness Program?
I loved the idea of being part of a cohort.  The ability to share and learn from others going through the same process and challenges really appealed to me.  In addition, I knew the ability to network and learn from corporate leaders would be critical in helping me to find my path. 
How did the program impact your transition?
The mentorship of coaches and corporate leaders I met through FourBlock really challenged me to up my game.  They understood my value and helped me learn to effectively present my value to corporate America.  Knowing I was not alone was powerful and helped to get me through the peaks and valleys of the process.     
What were your key takeaways from the program?
First, I needed to own my transition by having a bias for action (there is no remote control); Second, understanding and establishing priorities was critical in narrowing my focus and refining my transition plan; and finally, touch time matters. Networking/mentorship is a relationship business built on trust and respect.  So be respectful of people's time and "help them help you" by being prepared and focused. 
What did you like most about FourBlock's approach and/or the Career Readiness Program?
I think everyone gets excited about networking with corporate leaders and learning about their mission, culture, and opportunities. But an underrated aspect of the program is the format and curriculum.  Meeting weekly, topical discussions, guest speakers, and academic assignments gave it a more professional/collegial feel.  Treating this like a college course enhanced my ability to critically think about the process and put academic rigor into my transition plan. 
How did the program help prepare you for your current role?
The program improved my confidence, primarily by facilitating my ability to effectively translate the skills I acquired in the military to a corporate career in risk. Not only did this confidence enable me to be more genuine and effective at translating my skills in a meaningful way during interviews, but it also ultimately served to help me apply those skills in real life, once I started working at Wells Fargo.
What can veterans in your region expect from the program?
The veterans in my region can expect proactive and knowledgeable servant leaders as coaches who will challenge and support you along your journey and amazing corporate partners in San Antonio that value the skills service members bring to the table.
What do you like most about your current company or position?
I like that Wells Fargo is a veteran-friendly organization and is committed to your personal success and professional growth.  As for my role as a Business Risk and Controls Associate, I really enjoy that I get to interact with various Stagecoach team members on a variety of projects.  It keeps things interesting.   
How did your military service prepare you to serve in your current role, or your work in the civilian workforce more broadly?
My service prepared me by helping me to grow leadership skills, understand the value of being a good teammate, apply a disciplined work ethic, and utilize critical problem-solving skills to get the mission accomplished.   
What one piece of key advice would you give to veterans who are currently transitioning?
Have a bias for action.  Own your transition by "putting sweat in the bucket," make a tentative plan, establish priorities of work, utilize all available resources, and refine your plan as new information becomes available. 
A FourBlock employer of choice, Wells Fargo is a multi-city sponsor of FourBlock's Career Readiness Program in Charlotte, San Antonio and San Francisco.