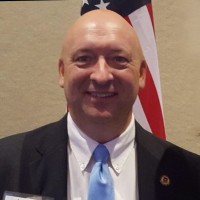 Mike Kepner is a retired United States Army Officer, having been deployed around the world responding to humanitarian missions and numerous combat operations in Iraq. Having served from platoon leader to the United States Force Iraq, Chief of Operations Mike has spent a lifetime leading, training, and preparing service members for mission accomplishment. His expertise includes team building, organizational/strategic planning, and leadership development.
After retiring to Central Florida in 2016, Mike graduated from the University of Central Florida with his Masters in Educational Leadership and several graduate certificates. He is a firm believer in lifelong learning and is currently enrolled at UCF as a student in the Career Coach Development Graduate Certificate Program. Starting his new career at Valencia College, Mike was responsible for obtaining full VA and State Approving Agency approval and accreditation for the Valencia College – Advanced Manufacturing Program. This allowed veterans to utilize their GI Bill benefits for accelerated programs leading to high-wage positions and career opportunities. Serving as Director of the Manufacturing Program, his focus and vision was to create educational pathways for students to find career success in high-wage industries. Today, Mike continues to serve our Nations' veterans as he works with The Transition House where he assists homeless veterans in creating pathways to economic self-sufficiency and futures where they can sustain themselves and their families.
Mike is passionate about community involvement, local politics, career pathways, and veteran advocacy. He gives back to his community volunteering at every opportunity he is offered to include serving on the Board of Directors for local non-profits and the regional manufacturing association. He is a member of the inaugural SALUTE – Veterans National Honor Society at the University of Central Florida and in 2018 was recognized by the Orlando Business Journal as a Veteran of Influence for his work with veterans in the educational space. Mike continues to advocate for veterans and their families at every opportunity focused on growing the Central Florida veteran community.